Legal Sports Betting Given Long Odds on Coming to Texas Any Time Soon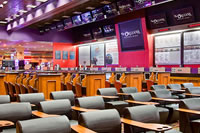 As of May 14th, 2018, Texas sports betting became an actual possibility. In fact, sports betting everywhere in the United States took a giant step forward in May, when the Supreme Court decided to throw out the highly restrictive and unconstitutional gambling law known as the Professional and Amateur Sports Protection Act (PASPA). The removal of this law means that states have the ability to begin establishing sportsbooks within their casinos and other gambling venues.
So, will we be seeing Texas sports betting any time soon?
I hate to say it, but the odds aren't favorable.
Texas' traditionally conservative values will more than likely keep them from acting any time soon on expanding gambling of any kind, not just sports betting. Texas residents currently have very few venues to choose from when it comes to legal betting. There are three Tribal casinos in the state, and a few paltry racetracks. And while there are no federal laws standing in the way of legalizing sports betting in Texas, there are still state laws that prohibit almost every form of gambling. SCOTUS's decision to strike down PASPA didn't legalize sports betting nationwide. Rather, it allowed states to make their own decisions on the matter.
And Texas is home to some very stubborn politicians. From the state assembly all the way up to the Governor's mansion, there are a number of hurdles for legal sports betting to jump before Texas hosts its own sportsbook. Governor Greg Abbott and Lt. Governor Dan Patrick have made their position on expanding gambling in the Lone Star state very clear – they're not for it, and will more than likely strike down anything that miraculously makes it through the republican laden legislature.
These limited viewpoints are not only disappointing, but also harmful to the health of the state's economy, and it's sad that Texas won't be acting on this amazing opportunity. As it stands now, sports betting is estimated to generate somewhere around $150 billion annually, if the American Gambling Association is to be believed. How much of an economic benefit could sports betting in Texas generate? According to a 2013 study, Texas annually loses out on $2.96 billion in legal gambling revenue to neighboring states like Arkansas, Louisiana, New Mexico, and Oklahoma. With sports betting being opened up for every state in the US, Texas will lose out on a lot more than that if those states get sportsbooks up and running before the Lone Star state.
Texas, like many states, is facing a need for more money to alleviate budget constraints, especially when it comes to education. Taxes placed on gambling revenue are currently used in some states to help bolster these underfunded programs.
Jay Stewart, a Texas-based attorney who has decades of experience working on legal gaming issues, believes that the upcoming session will definitely see some legislation be introduced. "I'm sure that bills will be filed," he stated when asked. But he also knows the mindset of the politicians in his state.
Gambling is a vice, one that goes against the family values platform that most Texas politicians stand on. So despite all the economic benefits that would come from legalizing sports betting, Texas will more than likely stay in the dark ages far longer than its more forward-thinking neighbors. "The general atmosphere against casinos and gambling in Texas will continue, and sports betting is something you do generally in a casino, either in person or online," Stewart says. He went on to say that if sports betting Texas residents want change, the attitudes will have to change.
In order to bring legal sports betting to Texas, there will need to be a change to the existing law, which currently prohibits every form of gambling except for Pari-mutuel wagering. (You can find all the details you need in the Texas Penal Code 47.01, Civil Statute 179e).
Legislators would also have to make a change to the state constitution. Texas state legislature meets for session every two years, which means that we could potentially see some changes – like more gambling and legal sports betting – coming to Texas as early as next January (Their next meeting will be in 2019, as the legislature only meets on odd-numbered years). But if nothing gets done within the 140-day 2019 session, which opens at noon on the second Tuesday in January, legal sports betting in Texas won't have a chance of becoming a reality until 2021.
Fortunately for the sports betting Texas resident, there are other venues that will allow you to wager on your favorite sporting events. Trusted offshore sites like Bovada and BetOnline provide some of the most favorable lines and fastest payouts in the online gambling world. For the future, all you can do is look to open-minded politicians to attempt to bring around change to the proud state of Texas.
Back to Sports Betting in Texas
Best Texas Sports Betting Sites - 100% Trusted + Safe
| | | | | |
| --- | --- | --- | --- | --- |
| | | 50% Up To $250 | VISA + Wire Transfer | |
| | | 50% Up To $1,000 | VISA, Bitcoin, Cash Wire | |
| | | 50% New Member Bonus! | VISA, Bitcoin | |
| | | 125% Up To $3,125 | VISA, Bitcoin | |
| | | 100% Up To $300 | VISA, Bitcoin | |
| | | 50% Up To $1,000 | Bitcoin, Wire Xfer, VISA | |