New 2019 Texas Sports Betting Bill Filed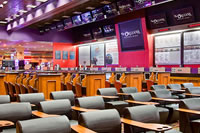 Austin, TX – Texas Representative, Eddie Lucio III (D-Brownsville), filed Texas House Bill 1275 to start the discussion about bringing legal sports betting to Texas. This is the first bill regarding the matter for the state, as they join the majority of the country as states who have filed or approved bills.
HB 1275 would end the prohibition on all gambling activities in Texas as discusses regulations for beginning a thriving industry in the Lone Star State. It outlines the licensing requirements and allocation, the taxation plan, and betting stipulations.
The Specifics Of Texas House Bill 1275
The bill lays out the details of who would be able to offer sports betting in the state: 5 approved operators. Full applications and an initial application fee of $250,000 are required to be submitted to enter the bidding.
Licensing would include a three-year permit and operators are limited to only one license approval. Renewal fees are set at $200,000 after the initial three-year term.
HB 1275 continues on by setting rules and regulations on sports betting such as the inability to wager on high school games and that bettors must be 21-years-old at minimum. Betting on collegiate games is allowed, with the exception of events where a Texas university is playing.
The 6.25% tax rate on operators is rather low as some states have seen rates from 10% to even 50%. This is due to the potential market that is estimated to top many other states' revenues. At a projected $9 billion dollar annual sports handle for the state, the estimations have it trailing only California, Florida, and New York.
According to a 2017 study by the American Gaming Association, the handle could exceed $18 billion if they develop an online system – something HB 1275 briefly talks about.
The Future of Sports Betting In Texas
The bill must be passed (by a two-thirds vote) by both sections of the Texas legislature before any of the details can be put into place. This would also require a statewide referendum in November to vote on amending the state constitution which makes sports betting illegal in Texas.
It is projected that an approved sports betting referendum could open the industry as early as January 2020.
However, the Texas legislature must move quickly regarding this bill as state laws have sessions once every two years. The expansion into legal sports gambling is expected to create over 9,000 jobs as the state is titled as the biggest casino market that doesn't exist.
Rep. Lucio is excited his bill has been filed for the 2019 session but also fears that efforts may be futile as the Republican Party in Texas took a strong anti-gambling stance in their 2018 platform. Only time will tell if lawmakers can come to some sort of agreement as the 86th Texas Legislature began on January 8th, 2019 and conclud
Back to Sports Betting in Texas
Best Texas Sports Betting Sites - 100% Trusted + Safe
| | | | | |
| --- | --- | --- | --- | --- |
| | | 50% Up To $250 | VISA + Wire Transfer | |
| | | 50% Up To $1,000 | VISA, Bitcoin, Cash Wire | |
| | | 50% New Member Bonus! | VISA, Bitcoin | |
| | | 125% Up To $3,125 | VISA, Bitcoin | |
| | | 100% Up To $300 | VISA, Bitcoin | |
| | | 50% Up To $1,000 | Bitcoin, Wire Xfer, VISA | |